Our shock absorbing pad for artificial grass is made of three layers with film on the backing to enhance the tensile strength and UV protection. It helps to reduce the overall cost of the artificial grass system, enhance the performance and extend the life span of the system.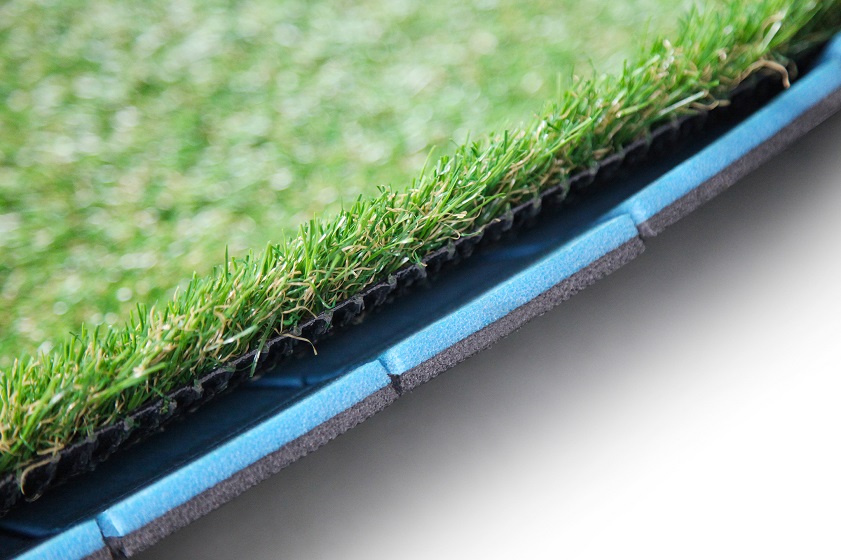 Scope of Application
---
Products are mainly used for Outdoor/Indoor sports: football, rugby, baseball, hockey pitch, golf greens, golf mats, children safety system, tennis and other sports recreation area.
Performance
---
--Our product is light in weight and easy to install which shorten the installation period and reduce the cost.
--Product has excellent shock absorption and ball rebound performance, bring happiness to the sports and avoid injury, which can be close to the natural grass feeling at the most.
--Roll length can be customized according to the pitch
--No pulverize or rot, long life span
--Closed-cell foam product does not absorb water, which makes the installation easy and not influenced by the weather.
--Heavy-duty machine has no problem to move on its flat surface.
--Special porous design ensures the good water permeability, so there is no water on the artificial grass, and activities can be proceeded in the rainy days.
--Elegant appearance and strong sense of comfort.
--Three layers' design to maximize shock absorption and minimize vertical deformation
Product Advantages
---
Structure---Our shock pad has been adopted proportion 4:6 and three-layer composite technology. Compared with one-time foaming process product, one-time foaming product is easily deformed, and elasticity lost too quickly make it difficult to restore elasticity after long-term use.
Material---The perfect combination of new environmental protection resin and rubber foam, rubber has a strong tensile strength and softness, which ensure the strong elasticity and softness brings sense of comfort at the same time. The UV resistant film brings the long service life for the shock pad who is more environmentally friendly, no odor.
Cutting Technology---Cutting grooves vertically and horizontally with holes to make sure water drainage in four directions, and installation more even.
Tensile Strength---Three-layer structure and characteristics of rubber makes the shock pad with the strong tensile strength, which will protect the product from deformation and damage during the installation. Tensile strength of one-time forming process product is poor.
.